| | |
| --- | --- |
| | FREE Entry for kids under 13 |
| | FREE General car parking |
| | Southbank & Infield parking - click here to download a pass* |
| | Radio Brands on 87.7FM |
| | Trade zone and food outlets |
Event preview video: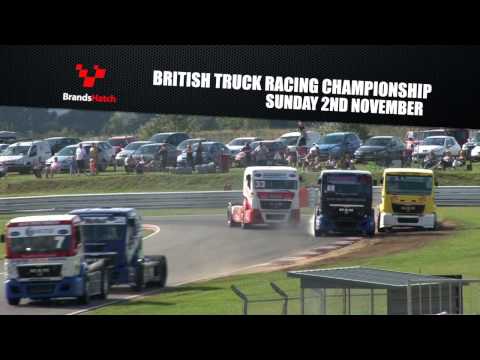 Past event highlights:
British Truck Racing Championship & Fireworks
Brands Hatch (Indy)

Saturday 01 - Sunday 02 November 2014
Expect fireworks on and off the track this weekend, as the popular racing trucks blast into Brands Hatch for their spark-tacular season finale, while on Sunday night the darkening skies will be lit up by our now customary dazzling fireworks display.
Truck racing is one of the most unique forms of motorsport in the world. The drivers aren't afraid to make contact with their rivals, as they poweslide around the circuit at speeds up to 100mph! There's a bumper entry for this weekend's race - click here to download the entry list.

Truck Racing is one of Brands Hatch's most popular family events, with a packed programme of motorsport, plus a huge variety of off-track activities including monster truck rides, a traditional fairground and a big kids' entertainment tent with balloon modellers, a Punch and Judy show and much more! And don't forget that after the racing has finished on Sunday (between 4.45pm and 5pm), you'll be treated to that huge fireworks display!

There's great food and drink too, with a bonfire party-inspired menu in our permanent restaurants, plus a hog roast. Click here to see what's on offer.

Click here to download a map showing all the activity areas on the Sunday.

Please note - parking on Southbank will be limited at this event due to the positioning of the fireworks display. Please click here to view a map showing the restricted area. Access to Southbank will be £2 on the Saturday and £5 on the Sunday (per vehicle).
ADVANCE BOOKING HAS NOW CLOSED. TICKETS WILL BE AVAILABLE TO PURCHASE AT THE GATE.
What's On  
(click on any image for a larger view)
TICKET TYPE
ADULT
CHILD
(UNDER 13)
SENIOR
CITIZENS
 
ONLINE
GATE
ONLINE
GATE
ONLINE
GATE
Saturday Admission
-
£14
-
FREE
-
£10
Sunday (inc fireworks display) Admission
-
£22
-
FREE
-
£15
Sunday Paddock Hill Grandstand - Roving Seating
-
£10
-
£5
-
£10

PLEASE NOTE – YOU WILL REQUIRE A VALID ADMISSION TICKET OR VALID PASS TO GAIN ACCESS TO THE VENUE AT THIS EVENT. THE PRICE FOR OPTIONAL EXTRAS (SUCH AS GRANDSTAND SEATS AND CAMPING) DOES NOT INCLUDE VENUE ADMISSION

* Saving relates to the face value of each admission ticket ordered online. Advance booking closes 12:00 Wednesday 29 October. All orders received before 14:00 Tuesday 28 October will be sent by Recorded Delivery at a cost of £1.99 per order (or Special Delivery at a cost of £6.75 per order if specified by the purchaser). All orders received after 14:00 Tuesday 28 October will be sent by Special Delivery at a cost of £6.75 per order. Telephone bookings are subject to a surcharge of £1 per admission ticket. We start posting orders approximately one week prior to the race meeting.
FIREWORKS DISPLAY (SUNDAY)
There will be a spectacular fireworks display following the end of racing on Sunday. Depending on levels of light, it will commence at some point between 4.45pm and 5pm. The display will take place on Southbank - the elevated area opposite the pit straight grandstand.

TRADITIONAL FAIRGROUND (SUNDAY)
The Brands Hatch Fun Zone will offer a traditional fairground with stalls, plus an an assortment of exciting rides and activities for kids of all ages.
KIDSPACE MARQUEE (SUNDAY)
On Sunday, a Marquee on the FunZone behind Pit Straight grandstand will feature children entertainers, Punch & Judy shows, bubble performances and a Balloon Modeller. Throughout the day a variety of activities including colouring and Soft Play will also be on offer. Younger race fans will also have the opportunity to have their face painted by our skilled painters. This should help keep our younger race fans entertained during the day! Admission is completely free of charge.

RED DRAGON MONSTER TRUCK RIDES (SUNDAY)
If you've ever wondered what it is like to drive a monster truck then now you have the chance! Red Dragon is a monster truck which has been converted to carry up to 10 passengers enabling the public to feel its thundering V8 power. Red Dragon, as seen at Top Gear Live, will be offering passenger rides all day for a small fee.


XTREME CHAINSAW (SUNDAY)
Throughout the day on Sunday, Simon from Xtreme Chainsaw will demonstrate his chainsaw wood carving mastery, creating works of art right before your eyes!
DISPLAY TRUCKS (SUNDAY)

No fewer than 160 pristine show trucks will be line up on Colin Chapman Way, adjacent to the start/finish straight. They will then head out on to the track with headlights ablaze for a special twilight convoy following the end of racing on Sunday, prior to the fireworks display.
ADVENTURE PLAYGROUND
Check out the Brands Hatch adventure playground, which features a motorsport theme and has equipment for children of all ages from toddler to 14.There are climbing frames, swings and much more!
Location: To the right of the Kentagon Restaurant.
GO KARTING
You can also test your mettle with go-karting on a mini version of the Brands Hatch Indy circuit, located opposite the Megastore. Operated by Buckmore Park, karting is available for all those aged 8+ and costs £12 for ten minutes, payable at the karting circuit.
Click here for general circuit information, including directions, accommodation and address/contact details.
What time do the gates open?

Gates open at 8.00am both days.

What time does the campsite open?

The campsite opens at midday on the Friday before the event and will close on midday on the Monday after the event.

How much does it cost to park?

Parking is free of charge for all public car parks. If you wish to park on Southbank (the large grassed area opposite Cooper Straight) the charge is £2 per car on the Saturday and £5 per car on the Sunday. If you plan on parking on Southbank you will need to display a pass. Please note - parking on Southbank will be limited at this event due to the positioning of the fireworks display. Please click here to view a map showing the restricted area.
Can I get in to the Paddock and Pit areas?

There are no restrictions on access to the Support Race Paddock.
Is there free WiFi available at the venue?

You can access free WiFi at the restaurant(s), pit lane and main grandstand areas. Registration is required.

Am I entitled to any discount for being a carer?

Carers of our disabled guests may be entitled to free admission at MSV race events. Please contact our call centre on 0843 453 9000 for further details, no later than three days before the event you wish to attend.

Is there Disabled Parking and Viewing available?

There is designated disabled parking available in the vicinity of Paddock Hill Grandstand and you may also park free of charge on the Southbank. Vehicles parked in these areas must display a Blue Badge.

There is a wheelchair viewing area in Paddock Hill Grandstand with free of charge access to wheelchair users plus one carer. Any additional carers, friends or family must be in possession of a valid grandstand ticket. Please contact our ticket office on 0843 453 9000 to reserve space in the wheelchair viewing area.

PLEASE NOTE: YOU WILL REQUIRE A VALID ADMISSION TICKET OR VALID PASS TO GAIN ACCESS TO THE VENUE AT THIS EVENT
What happens if my tickets don't arrive in time?

All tickets are sent by Royal Mail Recorded or Special Delivery, meaning a signature is required. In the rare instance that your tickets have not arrived in time you will need to purchase them at the gate price and obtain a refund after the event by returning the gate ticket stubs and your original tickets to the ticket office at the address below:

Ticket Office
MotorSport Vision Centre
Brands Hatch Circuit
Fawkham
Longfield
Kent
DA3 8NG
Are animals permitted anywhere on site?

No animals are permitted anywhere on site. Guide/assistance dogs are the only exception.

I have a Grade D ticket. Where can I find a list of events and can I upgrade my ticket?

You can find a list of eligible Grade D events by clicking here.

What is MSV's ticket refund policy?

The ticketholder shall only be entitled to a refund or exchange (at MSV's election) if an event is cancelled in its entirety prior to its commencement of the Event for reason(s) that are within the reasonable control of MSV.

Event tickets may not be sold, resold, donated, transferred or in any way disposed of without prior written permission from MSV.
How can I get media accrediation for race events?
Please visit our dedicated media site to apply for accreditation at media.msv.com
What is the policy on Drones or UAVs?
Drones / UAVs are not permitted for use at Brands Hatch on any event day.