| | |
| --- | --- |
| | FREE Entry for kids under 13 |
| | FREE General car parking |
| | Trade zone and food outlets |
| | Giant TV screens - Raceday only |
| | Radio Snetterton on 87.7FM |
| | FREE Pitwalk |
Watch the TV advert: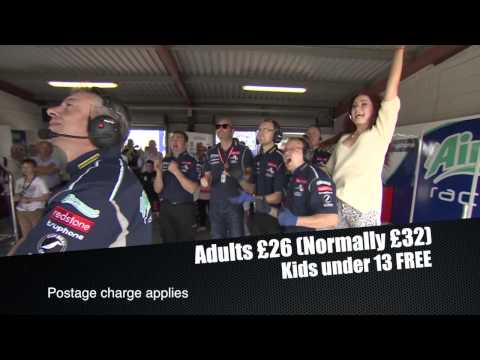 BTCC highlights:
Dunlop MSA British Touring Car Championship
Snetterton 300

Saturday 02 - Sunday 03 August 2014
The British Touring Car Championship is the UK's premier four wheeled motorsport series, famed for its close racing, unpredictable results and inevitable contact between its hard charging drivers.
There's an even bigger buzz than usual about the 2014 season, with a magnificent seven BTCC champions on the grid. Alain Menu and Fabrizio Giovanardi have both returned to the series, joining fellow title-winners Matt Neal, Jason Plato, Gordon Shedden, Colin Turkington and current BTCC king Andrew Jordan.
Turkington just leads the standings from Shedden and Jordan heading into Snetterton, which kicks off the second half of the season. The 300 circuit boasts some of the best views in national motorsport, with most of the circuit visible from its three large spectator bankings at Montreal, Palmer and Agostini corners. The layout provides great racing, and there was bucket loads of drama in 2013, including a dramatic roll for Jason Plato in the last race!
As well as three races from the BTCC, there will be support from the Ginetta GT Supercup, Renault Clio Cup, Formula Ford, and the young chargers of the Ginetta Junior Championship.
Snetterton was transformed in 2011 with the creation of a new infield circuit and huge elevated spectator banks. Click here to see the panoramic views on offer for fans and here to download a map showing the location of the new grandstands and big TV screens.
ADVANCE BOOKING HAS NOW CLOSED. TICKETS WILL BE AVAILABLE TO PURCHASE AT THE GATE.
WHAT'S RACING  
(click on any image for a larger view)

PLEASE NOTE – YOU WILL REQUIRE A VALID ADMISSION TICKET OR VALID PASS TO GAIN ACCESS TO THE VENUE AT THIS EVENT. THE PRICE FOR OPTIONAL EXTRAS (SUCH AS GRANDSTAND SEATS AND CAMPING) DOES NOT INCLUDE VENUE ADMISSION

* Saving relates to the face value of each admission ticket ordered online. Advance booking closes 12:00 Thursday 31 July. All orders received before 14:00 Wednesday 30 July will be sent by Recorded Delivery at a cost of £1.99 per order (or Special Delivery at a cost of £6.75 per order if specified by the purchaser). All orders received after 14:00 Wednesday 30 July will be sent by Special Delivery at a cost of £6.75 per order. Telephone bookings are subject to a surcharge of £1 per admission ticket. We start posting orders approximately one week prior to the race meeting.
This event will feature Dunlop MSA British Touring Cars, Formula Ford, Ginetta Supercup, Ginetta Juniors and the Renault Clio Cup.
Please note: race meeting content is subject to change.
LARGE VIEWING SCREENS
To help you keep up with all the action three large screens will be provided around the circuit. These will be located opposite Bombhole grandstand, facing Murrays Grandstand and viewing bank and facing Palmer's viewing bank and Tyrrell's Grandstand.
KX QUESTION TIME PRESENTED BY AUTOSPORT AND MOTORSPORT NEWS
If you're coming to Snetterton on Saturday, join us for KX Question Time hosted by Alan Hyde at Tyrrell's Restuaurant at 6.30pm. You ask the questions and you could go home with a great prizes that include a Dunlop goody bag and subscriptions to Autosport and Motorsport News. If you are unable to attend in person , you can also tweet your questions using #KXQT. The evening will begin with KX Akademy drivers Josh Cook & Ant Whorton-Eales answering you questions before BTCC guests Jason Plato, Matt James, Sam Tordoff, Fabrizio Giovanardi and David Addison take center stage. Entry is free and Tyrrell's Restaurant will be serving food and beverages throughout the evening.
Location: Tyrrell's Restaurant
TYRRELL'S RESTAURANT
At Tyrrells restaurant the bar will be open on Friday and Saturday evening and on Saturday there will be a disco.
CAMPSITE BEER TENT
In the campsite there will be a bar open on Friday and Saturday evening. On Friday, The Killer Tomatoes will perform live and on Saturday night bands Miss Murder and Cherry Bombs will entertain the crowds.
ADVENTURE PLAYGROUND
Check out our adventure playground by Tyrrell's Bar and Restaurant, which features a motorsport theme and has equipment for children of all ages from toddler to 14. There are climbing frames, swings and much more, which will keep the children busy and entertained!
Click here for general circuit information, including directions, accommodation and address/contact details.
What time do the gates open?

Gates open at 8.00am on the Saturday and 7.30am on the Sunday

What time does the campsite open?

The campsite opens at 12:00 on the day preceding the first event day. The campsite closes at 21:00 on raceday, after which time no facilities are available. Campers will be required to vacate the campsite by 12:00 the day after raceday.
Where is the campsite located?
All public camping is located north of the Bentley Straight as we have new improved shower/toilet facilities in this area. There will be no public camping in the infield. There will be a beer tent, band and catering units on Saturday night and access to a viewing area overlooking the new infield section of the track; in particular Montreal, Palmer, Agostini, Hamilton and Williams.

How much does it cost to park?

Parking is free of charge for all public car parks.
Is there free WiFi available at the venue?

You can access free WiFi at the restaurant(s), pit lane and main grandstand areas. Registration is required.

Am I entitled to any discount for being a carer?

Carers of our disabled guests may be entitled to free admission at MSV race events. Please contact our call centre on 0843 453 9000 for further details, no later than three days before the event you wish to attend.

Is there Disabled Parking and Viewing available?

Blue Badge holders may park free of charge inside the venue in the disabled parking and viewing area infront of Murrays Bend.

What happens if my tickets don't arrive in time?

All tickets are sent by Royal Mail Recorded or Special Delivery, meaning a signature is required. In the rare instance that your tickets have not arrived in time you will need to purchase them at the gate price and obtain a refund after the event by returning the gate ticket stubs and your original tickets to the ticket office at the address below:

Ticket Office
MotorSport Vision Centre
Brands Hatch Circuit
Fawkham
Longfield
Kent
DA3 8NG
Are animals permitted anywhere on site?

No animals are permitted anywhere on site. Guide dogs are the only exception.

I have a Grade D ticket. Where can I find a list of events and can I upgrade my ticket?

You can find a list of eligible Grade D events by clicking here.

What is MSV's ticket refund policy?

The ticketholder shall only be entitled to a refund or exchange (at MSV's election) if an event is cancelled in its entirety prior to its commencement of the Event for reason(s) that are within the reasonable control of MSV.

Event tickets may not be sold, resold, donated, transferred or in any way disposed of without prior written permission from MSV.
How can I get media accrediation for race events?
Please visit our dedicated media site to apply for accreditation at media.msv.com
TICKET UPGRADES:
Gold Hospitality - SOLD OUT
@ £192 inc VAT
Hospitality Includes: privileged parking, entrance tickets into circuit & suite, official programme, arrival tea, coffee and breakfast rolls, two course buffet lunch, afternoon tea & cakes, complimentary bar serving wines, beers & soft drinks. Please note all hospitality bookings purchased within 2 weeks of the event are subject to a £7.99 Special Delivery fee.